WHAT WE PROVIDE
AN EXPERIENCE YOU CAN TRUST
From the start, you'll notice something different about our approach.
Instead of bragging about our reputation or awards, we start by
Getting to know you.
That's why we got into wedding photography in the first place - to connect with people like you.
And because, ultimately, you are what matters most.
Then, we'll design an experience and create photos that are personal and meaningful to you.
ONE WORD TO DESCRIBE THEM BOTH: VISIONARIES!
Sachi & Harry
WHAT WE CREATE
TANGIBLE MEMORIES
We don't Photoshop love and emotions.
That's because we'll put in the leg work to make sure we connect from day one. We'll provide you with direction and guidance on your wedding day. And we'll give you the time and space to be present and feel.
From there, and from the feeling of being comfortable as your genuine selves, the love and emotion will naturally flow.
And from it all, we'll create tangible memories for you to remember and share with future generations.
WHAT WE OFFER
PHOTOGRAPHY SERVICES
Commission us as your photographers,
and you'll receive genuine photos and an enjoyable experience.
And it all starts with a custom proposal based on your wants
and the following services we offer:
VENDOR
RECOMMENDATIONS
Receive a recommended list of trusted vendors. We'll put this list together for you based on your specific needs, budget, and personality.
TIMELINE ASSISTANCE
Have time to get the pictures you want while still having time to spend with family and friends. We'll create a realistic and structured timeline to make sure this happens.
VENUE RESEARCH
Rest assured you'll get the best pictures in the best locations with the best lighting. We'll thoroughly research the venue online, arrive early to scout locations, and, if it gives you further peace of mind, join you on a walkthrough before the wedding day.
PROPOSALS
Get extraordinary photos that mark the start of this important milestone in your lives. Use these photos for your wedding website, print them for personal use, or frame and display them in your home.
ENGAGEMENT SESSION
Feel comfortable in front of the camera before your wedding day arrives. You'll get dressed up. You'll get in some practice. We'll have fun as we get to know one another better. And from it all, you'll have even better wedding photos.
STATIONERY DESIGNS
Think of us as your one-stop-photography-shop. In addition to taking your pictures, we can also help design and print your save the dates, albums, thank you cards, and coffee table-inspired guest book.
WEDDING COVERAGE
Receive images that tell the overall story of your wedding day - with an emphasis on the special moments and authentic emotions. Whether you need one or multiple days of coverage, we've got it handled!.
PERSONAL EDITING
Get photos that look and feel how the day felt. We'll pay special attention to various skin tones and colors & contrast. And we'll hand-edit all of your photos to look cohesive and consistent, while contemporary yet timeless, in style.
DIGITAL GALLERY
Access your high-resolution images through your online gallery. You'll get a link to your gallery via email to easily and quickly download, save, and share your pictures on any device. You'll also have direct access to order prints.
QUICK TURNAROUND
Receive your images within six short weeks so you can start reliving your wedding day all over again - with sneak peeks even sooner.
PRINT RIGHTS
Use and print your photos however and wherever you like. After all, they're your images. We're just the fortunate photographers who got to take them.
THEY'RE INCREDIBLY KIND, TALENTED, & CREATIVE, & THEY MADE US FEEL SO COMFORTABLE IN FRONT OF THE CAMERA. THEY'RE SO GOOD AT WHAT THEY DO
Julie & Greg
WEDDING ALBUMS
TO HELP YOU BETTER REMEMBER
When's the last time you scrolled through your computer or phone just to look at pictures?
This is why an album is so important.
In today's digital world, an album will help you to relive and remember your wedding day.
And tell the story of your day through a beautifully-designed and personalized piece of art.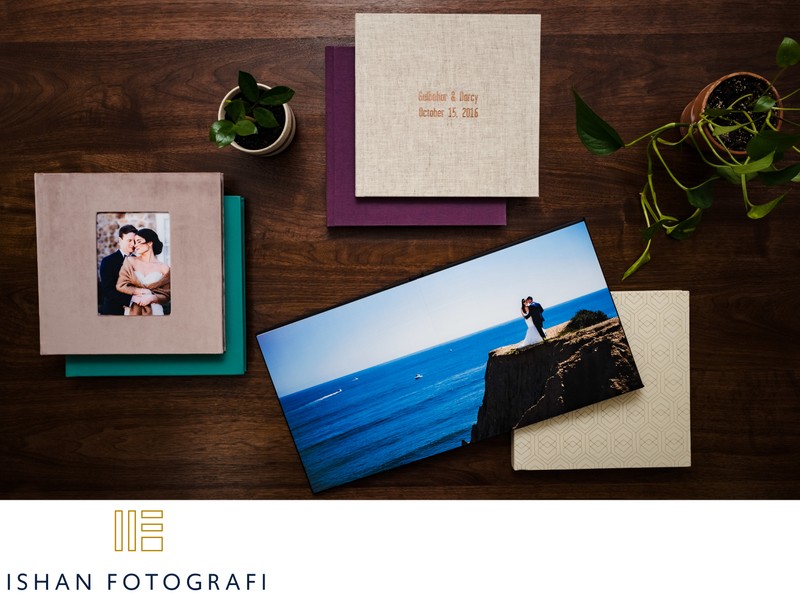 WE WERE ABLE TO BUILD A BOND WITH THEM QUICKLY & FELT SUPER RELAXED DURING THE WHOLE WEDDING & PRE WEDDING EVENTS
Juhi & Diego
LOOKING FOR MORE?
We also photograph self and family portraits, and non-profit and corporate events.
Please reach out to us for more information.