Nanina's in the Park wedding photography
Nanina's in the Park is a luxurious wedding venue in New Jersey that will transport you to a timeless villa in Tuscany. From the moment you arrive, you will be surrounded by beauty and grandeur at every turn.
Winning awards from Manhattan Bride, WeddingWire, The Knot, and Wedding Spot, it's no doubt Nanina's in the Park is a highly sought-after wedding venue in NJ. Let's get into the details so you can find out if this wedding venue is the right fit for you.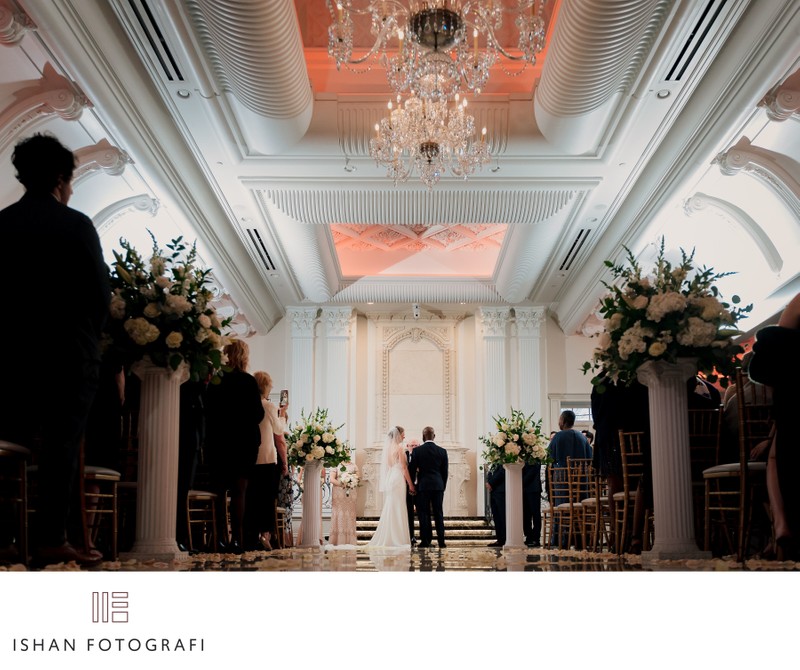 LOCATION & HISTORY
Nanina's in the Park is located in Belleville, a quiet hamlet in Northern New Jersey, just outside of Newark. The venue was built on the cusp of the Branch Brook Park, where you can find serene woodlands. A 45-minute drive from NYC, the venue is a pleasant escape from the bustling city life.
Nanina's is nestled within Branch Brook Park where rich history can be found. Frederick Law Olmsted first had the idea to transform the 360-acre forest around the Tuscany estate in 1867. The Olmsted Brothers, the same firm that helped construct New York's Central Park, finished designing the Branch Brook Park in 1938.
The park is also listed on the National and New Jersey State Registers of historic places, making it a treasure both locally and nationally. The original family that bought the venue over 60 years ago owned a restaurant in Newark. It then was passed down through several generations until they sold it to the current owners.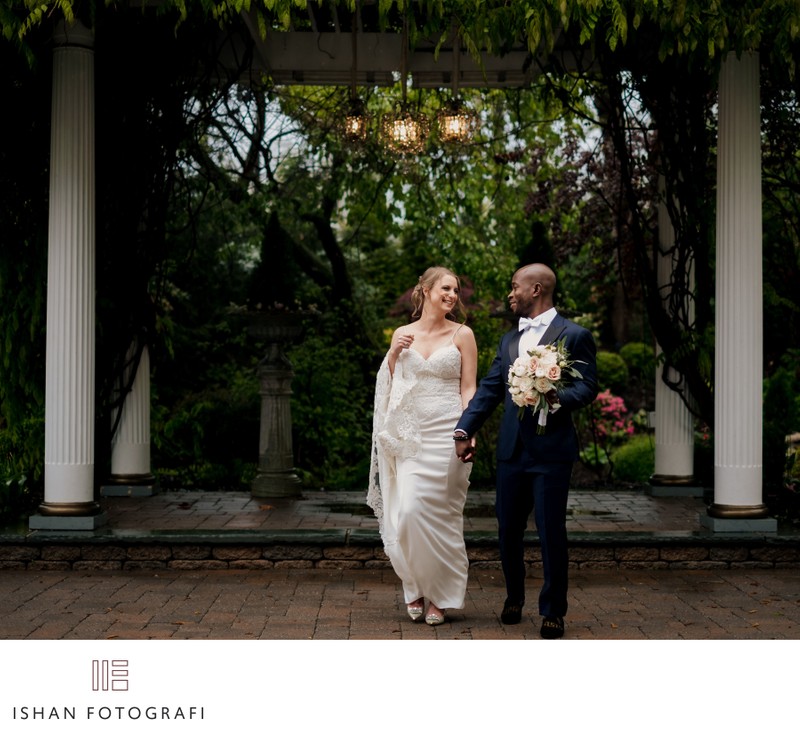 While creating the park, the Olmsted Brothers added cherry trees to the narrow stream valley, creating a breathtaking design inspired by the cherry blossom-filled valleys of Japan. Over the decades, thousands of weddings have been hosted at Nanina's in the Park. A few years before COVID, the space had a multimillion-dollar renovation that now provides an even grander experience.
Nanina's In the Park would be a great choice for couples who want a scenic and romantic setting for their big day. As New Jersey wedding photographers, we can spot a venue that has a diverse space with many different settings and backgrounds. When a venue offers a mix of spaces (indoors and outdoors), you can have wedding day portraits in a wide variety of styles.
We loved taking the getting-ready pictures in the bridal suites. These rooms are classically designed that exudes elegance.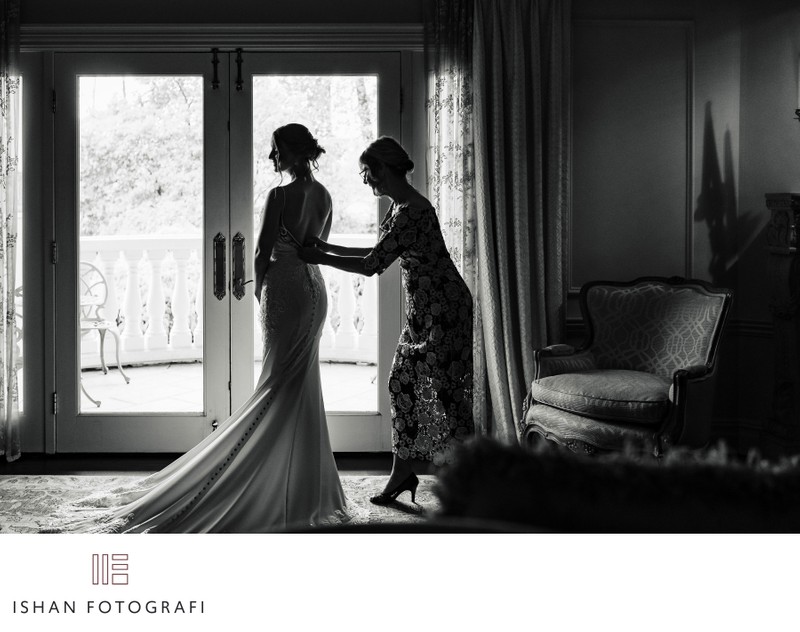 For first looks on your wedding day, the garden is an ideal spot for the bride and groom to meet. Especially in the summer, you'll get lush greens, vibrant tulips, and a variety of other plants as the backdrop. From there, you can take your wedding day portraits under the grandeur gazebo that's filled with natural colors.
You'll find tall pillars and rustic caged lights hanging down the center. The gazebo is also an excellent spot at Nanina's in the Park for photos with your entire wedding party (bridal party).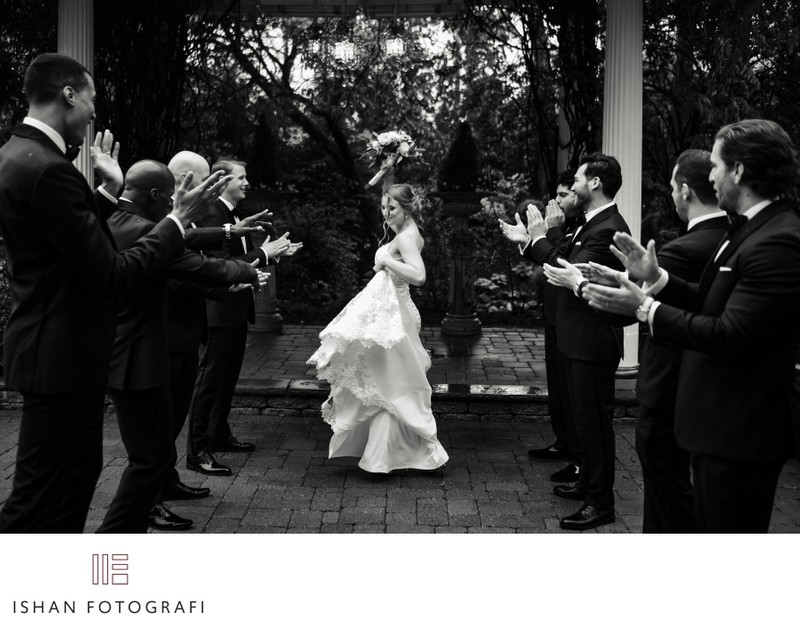 While wedding portraits in the garden are great, you can go inside for a more sophisticated aesthetic. There is a refined library where we enjoyed taking some wedding portraits with warm light and dark brown interiors. The grand piano added that extra touch of sophistication to the photos. Elegance is an understatement!
The wedding reception photos at Nanina's look effortlessly luxurious. The distinct architecture of the ceiling and back walls creates a magnificent backdrop that will blow you away when you're looking back on your first dance. Not to mention, the way the accent lights hit the walls makes the whole setting evermore dramatic and romantic.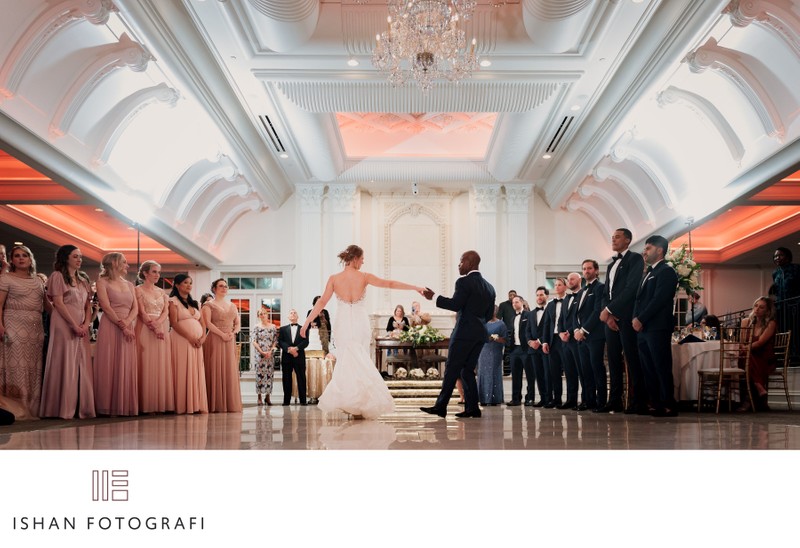 FEATURES OF THE VENUE
Nanina's in the Park wedding ceremonies can be held indoors or outdoors. Whether you're outside or inside, you'll find beauty and elegance surrounding you.
The grounds feature lush outdoor gardens, an aged walking bridge, a koi pond, and a beautiful 20-foot waterfall. A truly beautiful gazebo surrounded by vines and flowers is also located in the gardens.
This New Jersey wedding venue is almost like it's written out of a fairytale. All these features create the most romantic space to hold your outdoor ceremony where you can have up to 300 guests. You can even book a horse and carriage ride to exit your wedding ceremony in style.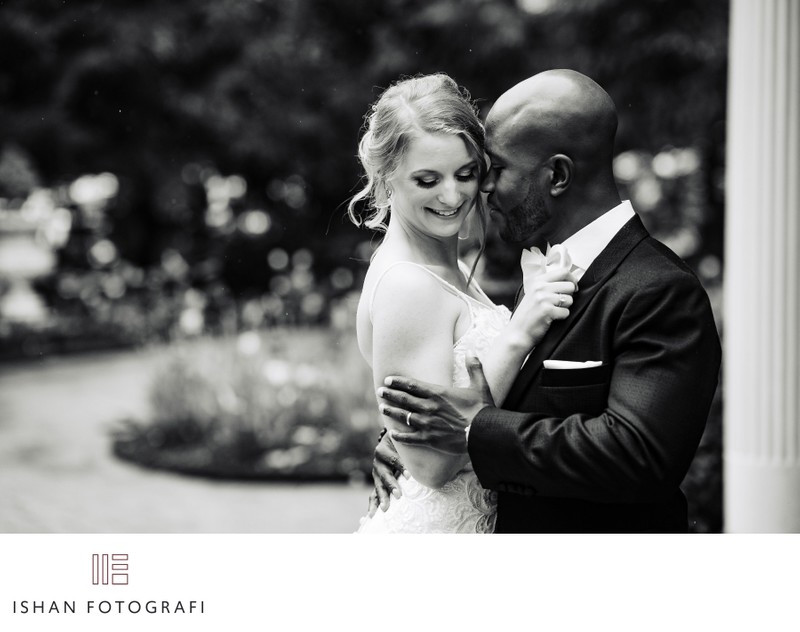 Nanina's Grand Ballroom is a spacious room that can accommodate up to 400 guests for a single event. Although you can only host a reception indoors, the ballroom won't let you down. Its Tuscany-inspired architecture is a breathtaking feature, with crystal chandeliers, a winding marble staircase, and a Juliet balcony.
The high ceilings and chandeliers are meticulously detailed, adding an extra touch of elegance. However, you may not be paying too much attention to the ceilings as you'll be dancing away on the white marble dance floor.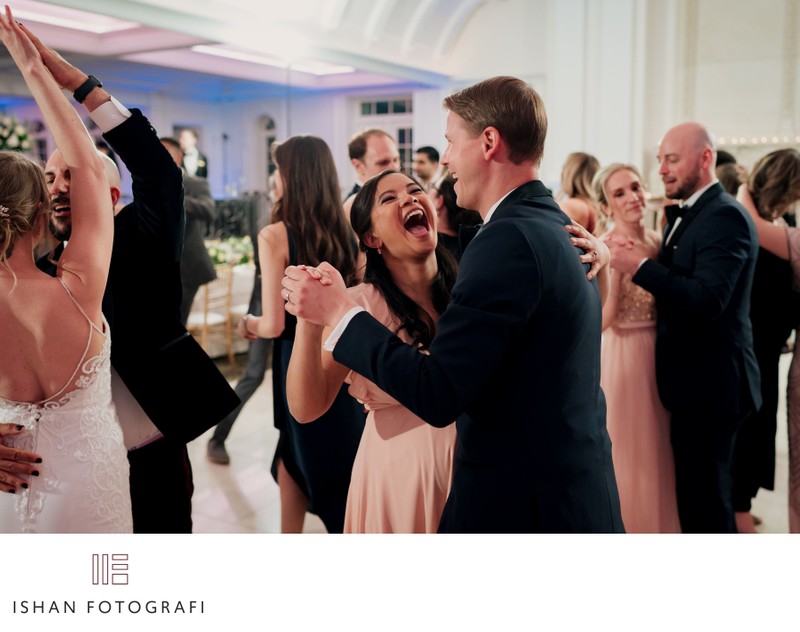 The ballroom is perfect for wedding parties, with a designated head table for the couple. There are luxurious bridal suites available for the wedding party to use for preparation, relaxation, and additional photography. These exclusive spaces are sure to make any event unique and unforgettable.
When it comes to the cuisine, Nanina's in the Park knows what they're doing. Nanina's award-winning chefs and mixologists can create a tailored menu for your event. You can choose from their existing menus or request something more extravagant.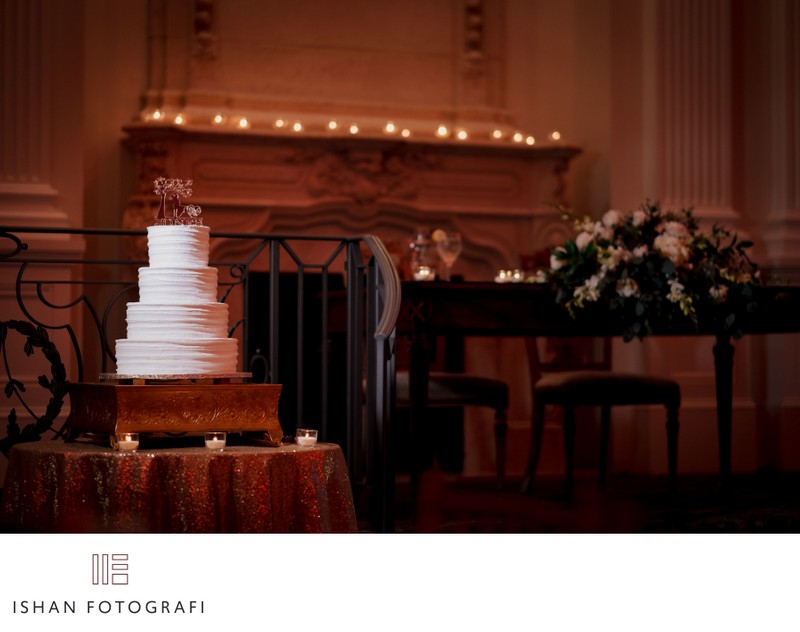 The Nanina's at the Park team will ensure that every aspect of your event, from cocktail hour to dinner service, is memorable with delicious food and drinks. You can also suggest customized stations to make your event stand out. Nanina's is willing to accommodate any request you may have.
WHAT'S INCLUDED AT NANINA'S IN THE PARK?
The northern New Jersey wedding venue never hosts more than one party at once. Nanina's has a variety of wedding packages and unique add-on features. If a horse and carriage ride isn't for you, you can also opt for a photo booth, LED lights, or a projector. The venue also provides valet service, a ceremony arch, transportation, dedicated event staff, and a day-of coordinator.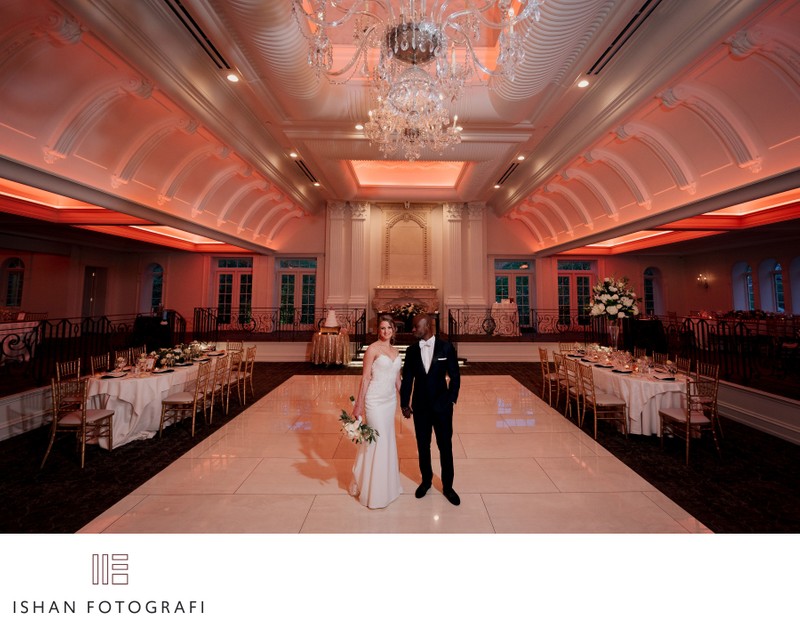 Nanina's in the Park does require at least 70 guests to host your wedding.
There are also some restrictions at the venue which include:
- Venue must approve all decorations
- Catering must be provided by the venue
- Alcohol must be provided by the venue
- Music must end by 1:30 AM
- No glitter, confetti, etc.
Is this the right wedding venue for you? If yes, contact us to shoot your picture-perfect wedding at Nanina's in the Park.