Fiddlers Elbow Country Club Wedding
Elegance earns a new meaning at the gorgeous Fiddler's Elbow Country Club in New Jersey. For a dreamy wedding, the country club is one of the most popular destinations in Bedminster that caters to weddings that center around the themes of elegance, class, and grace. The countryside in Bedminster is the lovely backdrop to the country club, surrounded by a lush green landscape that embraces the estate in all its glory. With over 40 rooms to choose from, the club is a scenic wedding venue that gives you a tremendous amount of choice and variety to create the wedding of your dreams.
An elegant New Jersey wedding venue is easy to find, but having beautiful scenery of floral blooms and a diversified landscape all around the wedding venue is rare. Although the estate offers a unique, tucked-away experience within 1,000 acres of natural beauty, it lies just off Route 78 for easy access. At the Fiddler's Elbow Country Club, guests are greeted with a beautiful drive up to the location with perfectly maintained gardens that take you into a botanical paradise. It's a retreat to another city; the estate is a beautiful escape from the city's noise and into the romantic world of your special day.
The architecture is similar to that of an English Manor, creating the theme of a medieval era. The exterior is designed in a rustic style, with an old-fashioned pattern of exposed bricks and traditional designs compared to a modern aesthetic on the interior. The exterior is timeless, bearing refined elegance that beautifully blends in with the freshness of the interior, resulting in an artful integration that you can't help but stare at in complete awe. The brick wall truly makes one feel as if they've traveled back in time, living in the luxury of an English country house.
Their indoor areas are soft pastel-colored with antique fireplaces that make for a lively yet cozy space for an indoor wedding ceremony. The ballroom seats up to 265 wedding guests with a luxurious outdoor patio attached to it which offers stunning views of the lush gold lawns, along with an outdoor fireplace and glimmering bistro lights to spark up your reception. The ballrooms also have extravagant chandeliers that add luxury, grandeur, and magnificence to your wedding reception. The floor-to-ceiling windows in the ballroom display the golf lawns and green hills cascading along with the blue skies, creating a picture-perfect backdrop for wedding ceremonies or even cocktail hour against a lovely sunset.
An ideal spot for the bride and groom to have their first look at, the staircase is a monumental design of the remarkably gorgeous estate. One of their prominent features is the glorious spiral staircase that gracefully curves down. One of our favorite captures to date is the nighttime wedding photo we took along the stairs. We managed to capture a two-tone photograph that highlights the lovely couple against the amber shades of the rich wood. For this moody wedding photo, we isolated and manipulated the lighting to create a romantic mood in the picture - something that we learned through years and years of experience.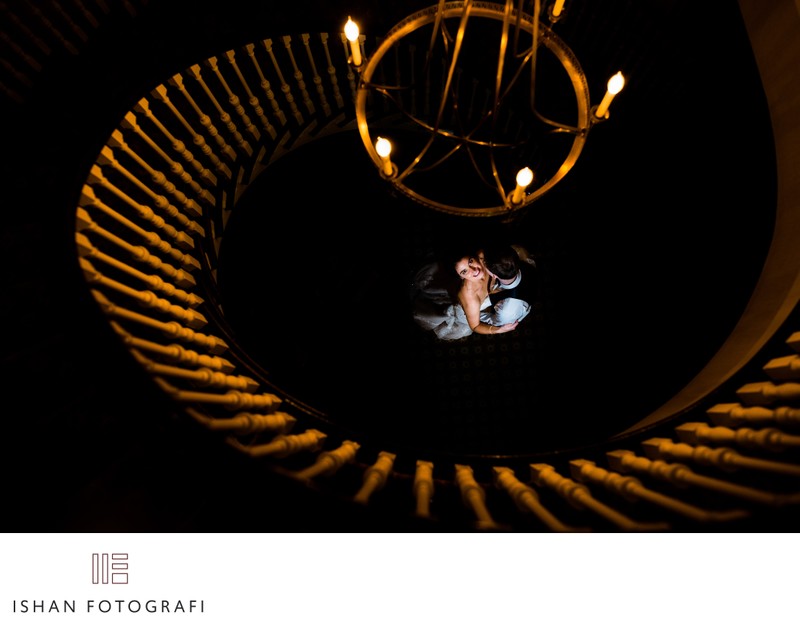 Fiddler's Elbow Country Club weddings are most known for the exquisite outdoor wedding venue. They offer a breathtaking spot for the exchange of vows, right along the Lamington River. Surrounded by enchanted gardens of flowers in bloom and the peace of a breezy river, an outdoor ceremony at the estate is out of a dream. The gardens are maintained year-round, letting you have your wedding ceremony during any season. They take immense care to maintain the property and preserve the magic throughout the year. Fiddler's Elbow is one of the only wedding venues in New Jersey that offers the allure of magnificent gardens, the grace of a lazy river, and the charm of an English manor. A complete package in one, this wedding venue is simply stunning.
The roaring hills are also a lovely backdrop for outdoor wedding photos. As New Jersey photographers, we have taken numerous photos in parks and gardens, and it has now become second nature to us. We know how to use space and light to capture unique wedding photos and love an opportunity to be innovative by using the great golf lawns to capture creative wedding photos. The natural light at this wedding venue is a compelling aspect of getting beautiful daytime photos, and with the greenery of the well-kept gardens, your photos are bound to be beautiful.
The outdoors also come with exciting activities for you and your wedding guests to enjoy. From a selection of golf, tennis, corn hole, and fly fishing, your wedding getaway can turn into an entertaining and lively trip for all. With such fun amenities, you don't have to worry about keeping your wedding guests entertained; Fiddler's Elbow Country Club has got your back!
The club also has private suites for the bride and groom to get ready. The bridal suite is a beautiful space with large windows, panoramic views of the golf lawns, and plenty of natural light. The windows are splendid, making the room bright and airy. Just what a bride needs on her wedding day, the room is a refreshing and relaxing sanctuary. As seasoned photographers, we love to use natural light in our wedding photography to capture moments organically and create natural-looking wedding photos. As the day went by, the light from the sun varied, and while we were able to capture some stunning golden hour wedding photos, we also used our portable light set up when the sun began setting. Our tools are easy to use and convenient to bring out instantly, helping us capture candid wedding photos in the nick of time.
As for other amenities, this wedding venue is praised for excellent catering and mindful chefs that genuinely listen to the couple's wishes and incorporate their dining ideas. They serve classic American dinners alongside international cuisines and serve up a delicious banquet for your wedding day. The club is committed to hosting only one wedding at a time, making sure to give you their full attention, and dedicated to making it the best day of your life. With their in-house events coordinator who oversees all your vendors and ensures that everything goes smoothly, your worries are dealt with professionally and courteously, leaving you with immense peace on your wedding day.
This rustic wedding venue in New Jersey is one to look out for. If you are organizing your wedding celebration and like the photos we take, please reach out to us. Our wedding photography studio is located very close to this wedding venue, and we've photographed multiple weddings here. We promise to capture your important day with elegance and class, leaving you with memories to cherish forever.
Location: 811 Rattlesnake Bridge Rd #2824, Bedminster, NJ 07921, United States.